Our goal is to produce and train every horse with a caring and consistant approach and to help develop a willing partnership between horse and rider for recreation as well as competition in any arena! Come join us!!
Training
Shirin Amier is a USDF Silver Medalist  and has trained through Grand Prix under such notable riders as Eicke von Veltheim, Albrecht Heidemann, Kalman de Jurenek, Walter Zettl, ALfred Knopfhart and Karl Mikolka.  She is very experienced in training and starting young horses for various disciplines.  She has worked with Buck Brannaman and Ray Hunt for the past 20 years and consistantly instills good Foundation, Horsemanship, Groundwork, and common sense in all the horses she handles.  She has given clinics throughout the US in general Horsemanship as well as the higher levels of Dressage.  She and imported stallion, Lester Patron, have been USDF All-Breeds Champions several years in a row at various FEI levels and are continuing up through Grand Prix.
Students consistantly compliment Shirin's positive, detailed and straight forward style of teaching and problem solving skills.  This approach to teaching and training has allowed Shirin to develop horses for multiple disciplines and succeed in the show ring while turning out a well rounded and versitile riding horse.
Clinics fees
Full training includes turnout 5 days/week, up to 3 lessons/week, and 2/3 training days/week, grooming, blanketing, and feeding of supplements (provided by owner) $1100/month
Half training includes riding/ lessons 3 days/week, turnout 3 days/week, minimal grooming, blanketing, and feeding of supplements (provided by owner) $650/month
Lessons – $75 (45-50 min private lesson) Trailer ins welcome (facility charge may apply)
Transport – All fees are based upon milage and location.  Private and Commerical haulers are used. Rates upon request.
Clinics – $600/day plus expenses and travel costs.  A maximum of 12 lessons/day  or special arrangements are made for private, semi-private or groups.
Show fees – $75/day plus expenses for travel, stabling, hauling, medications, etc.  Price estimates available. Certain fees are calculated after the show and divided between the clients/ horses.
Sales
Several sales programs available. Please inquire for pricing and options.
Lester Patron Breeding stallion
Lester Patron is a 17h Imported Stallion Approved GOV/Oldenburg and RPSI.  He is sired by Lambada, by Landgraf I x Farnese and his dam is Monacco, by Mariner (Matrose) x Lancelot (Lugano line).  He is a sire of versatility, having been Horse of the Year for USDF All-Breeds in 2007 at Prix St. George, and 2008, 2009 at Intermediare I and has qualified every year for Championships.  He received an overall 9 for his free jump (over 5'6″ oxer), an 8 for his canter and a 9 for his ridability at his Oldenburg Approval.  He has over 100 registered foals in North America as has had two approved stallion sons.  His offspring are successfully competing in Dressage, Eventing, Jumping an Hunters.  Lester Patron is available to North American breeders via fresh semen and frozen semen (limited availability) for 2013.
We are committed to helping are customers acheive their dream foal and next champion.
News blog
gallery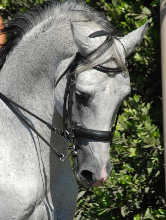 LESTER PATRON – IMPORTED STALLION